2019-2020 Insurance Renewals
2,420 views
We regret to be the ones to share this bad news if you are not already aware, so please try not to shoot the messenger.  Strata Councils and their respective Ownership groups need to be aware that ALL Strata Corporations in and around the Lower Mainland (i.e. all of our clients) should expect to see very significant increases in the premiums they pay for insurance as well as deductibles.  This is a difficult topic to distill into a few bullet points and we will attempt to flesh out the new reality below, but here are some high (or low) lights:
Premium increases between 20-80% are common, with some outliers on either side;
Deductibles are increasing significantly- $100,000 is becoming the norm for water damage claims in high-rises;
This is the result of economic factors both micro and macro in scope;
You are not alone- this is impacting all Strata Corporations in the Lower Mainland, all Property Management firms and all insurance brokerages;
Owners found to be "responsible" for a loss will be liable for these new deductibles under most Strata Corporation bylaws;
We do not profess to provide expertise on insurance, but offer our update below- this has proven to be a very difficult month for Property Managers who are trying their best to assist their clients during what is our busiest time of an always busy year and we appreciate your understanding that this is not of our making and that there is zero money being made by our brokerage related to insurance commissions or the extra work involved in policy renewals. We are offering this memo in our efforts to educate Strata Councils and Ownership groups about the present realities and challenges of the Strata insurance market and will continue to do so at every opportunity.
The past month has been a difficult one for many of our clients- premiums have increased year over year anywhere from 20% (which was expected and experienced up until October of this year) to over 500%. The most extreme increases are certainly those that have experienced several very large losses this past year, but we are now routinely seeing premium increases between 60-100%.
Almost as difficult, the increases came without much warning. Despite considerable effort by Property Managers and the respective Strata Councils, the renewals are happening at the very last minute due to extremely challenging market conditions and the difficulties brokers are having in finding insurers who are willing to underwrite risk in the condominium markets.  Our first client to experience a significant increase in premiums (from approximately $200,000 to $390,000) had renewal terms placed before them at 4:00pm on the day of renewal following weeks of the Insurance Brokerage trying to fully subscribe coverage.  There was no choice but to sign on the dotted line, or face being uninsured- which is contrary to the Strata Property Act, not to mention a really bad idea.
The explanations we've received from the various insurance brokers we work with indicate that Vancouver and the surrounding area are suffering from insurance issues which are both macro and micro in scope.  On a micro scale, water and fire losses in and around the lower mainland have risen dramatically over the past few years, which has forced insurers to pay out significant sums. On a macro scale, insurers are paying out massive sums around the world for large disasters (think earthquakes, floods, fires, hurricanes and other forces).  They are also forecasting more payouts, and it's not too soon to say that at least some of this is believed to be driven by climate change. An additional complication in the Lower Mainland is the increased risk associated with living within an earthquake zone, and for parts of the region, a flood plain.
The impact on Strata Corporations here is that everyone should be prepared for significant increases.  Acutely hit will be large properties with high insurable value (they are very difficult to even find full coverage for right now, for example a $150,000,000 property might not be able to find a combination of insurers willing to take on that much risk), high rises (due to the severity of water losses) and wood frame (due to the risk of fire).  If you think that this is basically all Strata Corporations, you're not far off.  Though if you live in a sprinklered 6 story concrete mid-rise you may get off a bit easier than the others, for the most part everyone should expect to see significant increases on their next renewal if you have not already.
The "bottom line" is that insurers are paying out more in losses than their business models tell them they can absorb and turn a profit, and their main mechanisms to earn revenue are premiums and deductibles. In response to those losses and the restriction of both the number of players in the market and their capacity, insurers are dramatically increasing both premiums and deductibles to ensure profits are at the level they feel are reasonable.  The insurance market here in BC is extremely limited with only a handful of brokers.  Each is typically "blocked" from obtaining rates and terms from underwriters who are already engaged with your property by the incumbent broker, which essentially makes seeking quotes from alternative brokers impossible.  Your existing broker will shop your property around to as many insurers as they can (this can be seen as "getting quotes" and brokers are happy to share the details of their efforts along with a list of insurers they have approached) to try to obtain the best rates possible, and it's likely you may obtain terms at the last minute with very little choice but to immediately sign. We are working diligently with brokers to get terms in advance of the renewal, but it is proving to be very difficult and Strata Councils should come to expect these terms at the last minute in the existing market. Again, we are just the messenger.
While we are certainly sorry for this stunning shift in the market, this is not an issue that is exclusive to Stratawest, it is impacting every brokerage and every strata corporation in the Lower Mainland.  We encourage you to speak directly with your insurance brokerage (invite them to council meetings and Annual General Meetings), but also to review information from third party sources confirming the scope of this new insurance landscape.  Tony Gioventu from the Condominium Home Owners Association has written on this subject several times recently, including these articles:
https://theprovince.com/life/homes/condo-smarts-limiting-insurance-risk-for-an-owner-may-compound-risk-for-others and
https://theprovince.com/life/homes/condo-smarts-take-proactive-steps-to-manage-future-insurance-claims
The impact of this new reality on individual homeowners is also noteworthy.  With deductibles increasing as high as $250,000 for water damage, Owners are now potentially exposed to liability up to that amount due to bylaws which make them "responsible" for the chargeback of deductibles relating to losses that emanate from their Strata Lot.  Yes, you read all of that correctly- an Owner may be charged back an extraordinary amount under this new insurance regime and the current case law. It's not inconceivable to imagine a massive loss emanating from a single Strata Lot (i.e. an Owner on the 30th floor of a high rise whose washing machine hose bursts) where the value of the emergency services alone exceeds $100,000.  Most typical personal policies max out at $50,000 worth of liability coverage for Strata deductibles.  That gap should be insured by Owners, and we recommend that all Owners check their liability exposure with their personal insurer to make sure adequate coverage is in place.  Below is information provided by one of the brokers we work closely with showing individual home insurers with water damage deductibles listed.  This might be helpful to individuals who have been unable to secure coverage at the new, higher deductible amounts: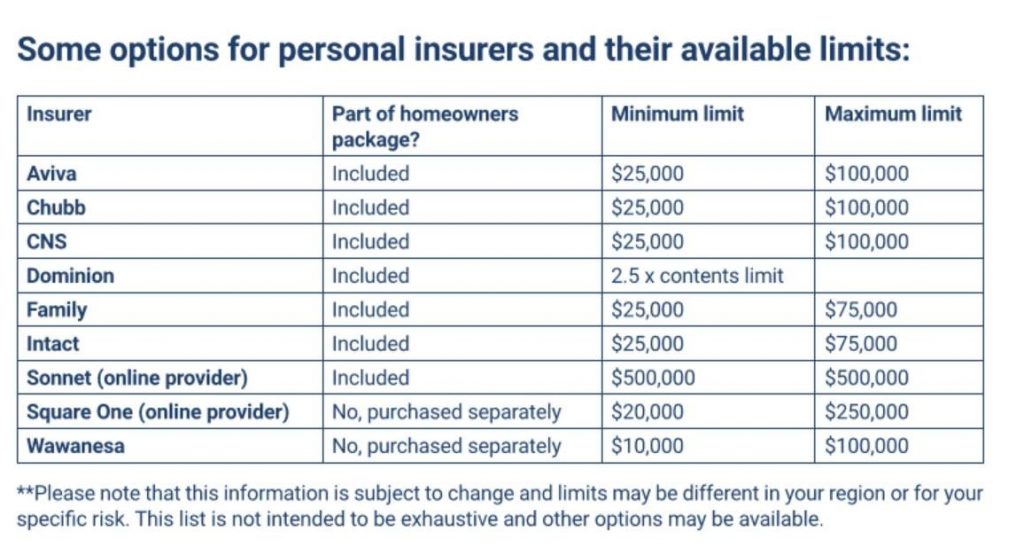 Again, we are not insurance salespeople, nor do we profess to have any expertise when it comes to personal policies.  There may be benefits and defects to the policies that each of these insurers offer and we are only offering the limits as a guide to Owners who are seeking coverage.  Buyer beware, as always.
It may be tempting for Strata Councils to look to the Property Manager for direction with this new reality.  We are prepared to assist with providing advice and helping craft communications for Owners, particularly around the increased premiums (which Strata Councils should budget for) and deductibles (which Owners should seek coverage for).  However, we cannot provide legal advice (many Strata Councils have been brainstorming creative actions to take, such as limiting the liability of Owners for deductible assessments through the Bylaws).  Nor can we make this situation go away through negotiations or hammering at insurance brokers with your low claims history or the fact that you may be a long-term client of theirs- it is a new reality for Strata Corporations and as unpalatable as it is, we collectively need to take steps to make sure that the premiums and deductibles that are now becoming commonplace can be paid.  In just about all cases, the increase in premium is so significant that existing operating budgets will be insufficient and Strata Fees will need to be increased, yet another upward inflationary pressure on the cost of living in Strata Corporations.
The full impact of this change is only starting to come to light- there will no doubt be other complications that we are unaware of at this time.  We will continue to provide the best advice we can to all of our clients and are here to assist in the ways we are able.